What is Page 2? Page 2 is a compilation of stories and news tidbits, which for whatever reason, didn't make the front page of /Film. After the jump we've included 46 different items, fun images, videos, casting tidbits, articles of interest and more. It's like a mystery grab bag of movie web related goodness. If you have any interesting items that we might've missed that you think should go in /Film's Page 2 – email us!
Header Photo: "Easy Being Green, It Is Not" illustration featuring Yoda and Kermit by artist Peter de Sève.
Phillip Noyce, who directed the pilot for ABC's upcoming tv series Revenge, has signed a first-look development/exclusive directing deal with the network.
Today's t-shirt of RIPT Apparel is a Hunger Games/Survivor-inspired design "Forever Everdeen".
Family Guy creator Seth MacFarlane has signed on to update Carl Sagan's Cosmos: A Personal Voyage. Fox will air MacFarlane's Cosmos: A Space-Time Odyssey in 13 parts during primetime.
Today's t-shirt of the day on TeeFury is Dr Horrible-inspired design "Horribly Evil"
Paul W.S. Anderson's The Three Musketeers is set to open the Tokyo International Film Festival on October 22nd 2011.
Check out the poster for Guy Moshe's Bunraku, which stars Josh Hartnett, Demi Moore, Woody Harrelson, Ron Perlman, Kevin McKidd and Gackt.
TV legend Patty Duke will guest star in a season 2 episode of CBS' Hawaii Five-0 as "an Alzheimer's-afflicted mother of a murder victim."
Residents of Oceanside, CA are preserving a 124-year-old bungalow used in Top Gun, while "handing three other historic homes on the block over to the wrecking ball."
Hayao Miyazaki's next film is an autobiography. Although the Anime News Network says that producer Toshio Suzuki "did not specify if the work is Miyazaki's own autobiography, or an adaptation of another person's autobiography."
Due to the amount of graphics and images included in Page 2, we have to split this post over a BUNCH of pages. Click the link above to continue the second page of Page 2.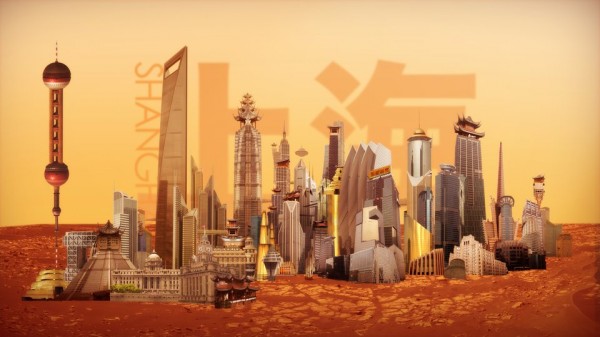 Collage created by Frankel from photos he shot in Shanghai with help of Hyun Jung Ra.
Artist Bio
Joshua Frankel is an animator, filmmaker and visual artist. Joshua grew up in the Hell's Kitchen section of New York City in a building filled with musicians, actors and dancers. He spent most of his youth listening to hiphop and trying not to let anyone take his lunch money.
Frankel's most recent film, PLAN OF THE CITY was called "One of the best matches of visuals to music I have seen" by Anne Midgette of The Washington Post in a review of its screening in the Library Of Congress' 2011 performance series.
Originally trained in painting and drawing, in 2001 Frankel began creating animation and visual effects, mostly for TV commercials. After four years of shilling SUVs, shampoo and sugar water he quit his job and made his first short film, BICYCLE MESSENGERS, which fused the aesthetics of his paintings and drawings with photo-real visual effects techniques.
Since then Frankel has been working in a variety of media, attempting to use the powers he has acquired in advertising for good, rather than evil. Frankel has collaborated with his wife, Eve Biddle, to create a series of enormous murals in New York City and Philadelphia that implant a sense of boyish wonder onto massive walls in public spaces using subject matter ranging from jellyfish to rockets.
In 2008 Frankel was commissioned to create a series of animations and short films for Barack Obama's presidential campaign, garnering hundreds of thousands of hits on YouTube.
Frankel has created projection design for the Lincoln Center Theater musical HAPPINESS (dir. Susan Stroman), the Broadway musical YOUNG FRANKENSTEIN (dir. Stroman) and the opera MOSHEH (composer Yoav Gal).
He has also created previsualization animation for several feature films, including I AM LEGEND (dir. Francis Lawrence), TWILIGHT: ECLIPSE (dir. David Slade), and SALT (dir. Phillip Noyce) as well as for the finale the video the game BIO-SHOCK 2.
Joshua's work has shown in galleries and festivals around the world.
About Plan of the City
Plan of the City is a new animated film, conceived and directed by Joshua Frankel, about the architecture of New York City blasting off into outer space and resettling on Mars. The film's visuals are an animated collage combining live action footage, animated elements, illustrations and treated photographs, including photos taken by the Mars rovers Spirit and Opportunity made available to the public domain by the NASA Jet Propulsion Laboratory.
Plan of the City was created in collaboration with composer Judd Greenstein and NOW Ensemble, an acclaimed "indie classical" chamber ensemble; the ensemble, including Greenstein, feature prominently in the film as live actors set inside the animated framework.
The audio of the film consists solely of Greenstein's Change, performed by NOW Ensemble; Change and Plan of the City were created in parallel, each expressing its own artistic intention while simultaneously serving its "sibling".
The film was presented with the music performed live, timed to the film, at Le Poisson Rouge in New York City in May, 2011. It also exists as its own stand-alone entity, utilizing NOW Ensemble's recent studio recording of Change (out on New Amsterdam Records).
Plan of the City debut screening at Institute of Contemporary Arts in London June 25th 2011.
Thanks to The Curious Brian for finding this artist!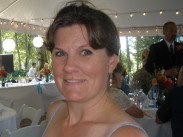 Teia Hassey trained horses all her life up to Dressage and Jumping levels. Now she is diving back into her passion of writing. Teia is working on her first memoir and writing for the arts in Chicago, IL.