Features and Essays
Tenth anniversary of the 9/11 is now passed us, but let's start with some of the features related to it…Lot of good coverage on the New York Times' web pages, obviously…First, Eugene Richards' multimedia of his Stepping Through Ashes…
Eugene Richards: Stepping Through Ashes (NYT Lens: September 2011)
NYT Magazine slideshow 'Images from a Post 9/11 World'..includes various photographers' work… Benjamin Lowy, Lynsey Addario,Peter van Agtmael, Ashley Gilbertson, and others… also links to the articles, which their images originally illustrated…
After 9/11, National Guard and police patrols had become part of the commute at Grand Central Terminal. Security was increased further after the Madrid bombings. Related article: "Lesser Evils."  photo: Antonin Kratochvil/VII
New York Times Magazine: Ten Years' Time: Images from a Post 9/11 World (NYT Magazine: September 2011)
Ashley Gilbertson has some new work on the New York Times site also…
Ashley Gilbertson: Remembering Lost Loved Ones (NYT: September 2011)
Todd Heisler: The Moment Before, and After (NYT: September 2011) 9/11
Fred. R. Conrad: The Faces of a Towering Project (NYT Lens: September 2011)
Magnum: 9/11 and Aftermath (Magnum in Motion: September 2011)
Susan Meiselas: Ground Zero Artifacts and Construction (Magnum: September 2011)
Scott Goldsmith: Flight 93 and Shanksville, PA: The Forgotten Part of 9/11 (TIME LB: September 2011)
To other features…
Sanjit Das: East Africa Crisis (Panos: September 2011)
New work by last year's Canon AFJ winner Bacigalupo, whose exhibition 'My Name is Filda Adoch' impressed a lot of people at Visa…
Martina Bacigalupo: Mogadishu, Somalia (Agence Vu: September 2011)
Patrick Brown: Bengal's Burden (Panos: September 2011)
Espen Rasmussen's In Transit project has now a dedicated website…
Espen Rasmussen: Transit (Project website: 2011)
Afghanistan…
Hipstas by Zalmai on Lens blog…
Zalmai: In Afghanistan, 'Unbelievable Force of Life' (NYT Lens: September 2011)
Norfolk on New Yorker Photo Booth…
Simon Norfolk: Postcard from Afghanistan : Echoes of Wars Past (New Yorker: September 2011)
Alixandra Fazzina: Pakistan: Preparing for disaster in south Punjab (Guardian: September 2011)
Mitch Dobrowner: The Storms (TIME Lightbox: September 2011)
Have another look at Medecins Sans Frontieres' and VII Photo's Starved for Attention campaign online… There's a travelling exhibit going around the States this autumn…
photo: Marcus Bleasdale
MSF and VII Photo: Starved for Attention 
Andrea Bruce: Conservative Muslims in Russia (Washington Post: September 2011)
Christian Als: The Disappeared Generation (Panos: September 2011)
Moises Saman: Detained Sub-Saharan Africans in Libya (Magnum: September 2011)
Foreign Policy  have a three-part series online featuring Kate Brooks' work from Afghanistan, Iraq, Egypt, and Libya…The photos are taken from her new book…
Kate Brooks: What War Looks Like (Foreign Policy: September 2011)
Kate Brooks: Those Who Face Death (Foreign Policy: September 2011)
Kate Brooks: From Revolution to War (FP: September 2011)
Johannes Eisele: The Casualties of War: Afghanistan's Medevac Missions, Up Close (TIME LB: September 2011)
Stanley Greene: A Drop of Blood between Turkey and Syria (NOOR: 2011)
Kozyrev's Tripoli photos now also on the NOOR site…
Yuri Kozyrev: The Battle for Tripoli (NOOR: September 2011)
Ruben Reyes: Foreign Laborers in Dubai (NYT Lens: September 2011) Reys' website
Japan…
William Daniels and Espen Rasmussen: Six Months On (Panos: September 2011) Japan
Jake Price: Japan six months after tsunami (BBC: September 2011)
Ed Kashi: Eye Contact (VII Magazine: September 2011)
Laura El-Tantawy: The Veil (TIME LB: August 2011)
Edward Keating: Blue Highway (TIME LB: September 2011)
Anthony Suau: The 99ers (TIME: September 2011) Long-term unemployed in America
Mauricio Lima: Few Treatment Options for Afghans as Drug Use Rises (NYT: August 2011)
Jean Gaumy: Climate challenge : The Indonesian case (Magnum: September 2011)
David Trattles: Girl Boxers of Calcutta (Foto8: September 2011) Trattles' website
Jessica Earnshaw: At a Bronx Hospital, a Teenage Milestone (NYT Lens: September 2011) Earnshaw's website
Interviews
First some 9/11 anniversary related interviews…
Robert Clark : 9/11 (burn magazine: September 2011)
Lynsey Addario : 9/11 Ten Years Later (New Yorker: September 2011)
Samantha Appleton : 9/11 Ten Years Later (New Yorker: September 2011)
Joel Meyerowitz : 9/11 Ten Years Later (New Yorker: September 2011)
Meyerowitz interview also on TIME… looks like he's working with Leica S2 here…
Joel Meyerowitz : Ground Zero, Then and Now (TIME: September 2011)
Eric Hoepker : 9/11 (CNN: September 2011) CNN's Errol Barnett speak to photographer Thomas Hoepker who took one of the most controversial 9/11 images
Steve McCurry on 9/11…
Steve McCurry :  memories of 9/11 (Phaidon: September 2011)
Interesting thing I noticed the other day looking at some of McCurry's 9/11 photos on his blog was that he has a frame almost exactly like one of Nachtwey's… The two men must have stood pretty much side-by-side…The colours are different, but I presume it's because Nachtwey was shooting C-41 and McCurry E-6…It's fascinating how similarly the two photographers framed the scene…
Marco Grob : on the Making of Beyond 9/11: Portraits of Resilience (TIME LB: September 2011)
Steve McCurry (Leica blog: September 2011)
Steve McCurry : Revealed – the true story behind the 'Afghan Mona Lisa' (Phaidon: September 2011)
Olivier Laurent's excellent Yuri Kozyrev interview in British Journal of Photography…
Must read. Yuri Kozyrev : on covering revolutions in the Middle East (BJP: September 2011)
Kozyrev interview also on Lighbox…this about one of his Iraq War photos, one the most memorable and powerful images of the entire conflict by anyone I'd say…Couldn't help but notice the file has been re-processed…
Yuri Kozyrev The Aftermath of 9/11: Ali Abbas (TIME LB: September 2011)
Fred Ritchin : Ritchin letter regarding the Q&A (Wired Raw File: September 2011)
Broomberg and Chanarin (ph-research.co.uk: 2011)
Kadir van Lohuizen : Via Panam part 2 (Nikon blog: September 2011)
David Chancellor talks about 'Hunters" (Polka: 2011)
Donovan Wylie : Outposts (National Media Museum Vimeo: 2011)
Donovan Wylie : Ways of Looking (National Media Museum: Vimeo 2011)
Martin Parr : Parrworld (Phaidon: 2011)
Nadav Kander (Conscientious: 2011)
Mario Tama : 9/11 (Dallas News: September 2011)
Jodi Bieber : Capturing Aisha (Montreal Mirror: September 2011)
Catalina Martin-Chico (BJP: August 2011)
Tyler Hicks : Gaddafi Family Album (NYT Lens: August 2011)
JR (The Atlantic: 2011)
Jared Soares (NYT Lens: September 2011)
Pete Brook (thoughtsonphotography: September 2011)
Articles
9/11 related articles… I particularly enjoyed reading and looking at this one from TIME Lightbox…
photo: Jonathan Torgovnik
TIME Lightbox: 9/11: The Photographs That Moved Them Most (TIME LB: September 2011)
How magazines picked their 9/11 anniversary covers…
NYT: Magazine Covers on a Topic Known All Too Well (NYT: September 2011) 9/11
NPR: Sept. 11 Through The Eyes Of VII, Magnum And Life (NPR: September 2011)
Guardian: 9/11 anniversary: photographers recall day of horror (Guardian: September 2011)
New York Times: The Reckoning: America and the World a Decade After 9/11 (NYT: September 2011
Thomas Hoepker: I Took That 9/11 Photo (Slate: 2006) Photographer Thomas Hoepker on Frank Rich's column, and why he thought his picture was too "confusing" to publish in 2001.
David Campbell: September 11, 2001: Imaging the real, struggling for meaning (DC blog: September 2011)
Alan Chin: Pushpins on a calendar (BagNewsNotes: September 2011)
Chris Floyd: The 9/11 Patriotic American Road Trip (Photographer's Blog: September 2011)
Peta Pixel: How Photographers' Rights Have Eroded Since September 11th (Peta Pixel: 2011)
Other articles…
photo: David Alan Harvey
Ideas Tap: Magnum: Advice for young photographers – part 2 (Ideas Tap: September 2011)
UK Photographer's Rights (Amateur Photographer: September 2011)
The Observer New Review's monthly guide to the 20 best photographic exhibitions and books…includes a shout-out to Luc Delahaye at Tate Modern..only three prints on show though (installation shot I took with my phone when I visited the show in August)…I enjoyed them…
Jenin Refugee Camp, 2001. Luc Delahaye.  From the exhibition New Documentary Forms at Tate Modern, London…worth a visit also for Mitch Epstein's American Power…not so keen on the other three…
The Observer: The Month in Photography September 2011
NY Daily News: To honor slain photojournalist Tim Hetherington, fellow photog opens docu-film gallery in Bronx (NY Daily News: September 2011)
Reportage by Getty Images: Tom Stoddart shoots the ICRC  'Health Care in Danger' campaign
Photo Stories: Webdoc Favourites (photo-stories-org: 2011)
BJP: Photographers' Gallery delays reopening until 2012
BJP: Photojournalism award launched in tribute to fallen photographer Lucas Dolega
BJP: Guillaume Herbaut and Bruno Masi win the Web Documentary Award at Visa Pour l'Image
Magnum: Steve McCurry Wins First Leica Hall Of Fame Award  (Magnum: 2011)
New Statesman:  The ambiguous art of Taryn Simon (New Statesman: September 2011)
Guardian: Featured Photojournalist: Oded Balilty (Guardian: August 2011)
Verve: Stuart Freedman (Verve Photo: September 2011)
Verve: Pete Marovich (Verve Photo: September 2011)
Pete Kiehart: Once: A New Magazine Model (Photo Brigade: September 2011)
BJP: Fujifilm commits to instant photography (BJP: September 2011)
Agency Access: Agency Access Acquires ADBASE and FoundFolios to Become Most Robust Photo Marketing and Illustrator Marketing Resource
10 Famous Street Photography Quotes You Must Know (Erik Kim Photography blog: September 2011)
Pulitzer-winning photojournalist resigns rather than lay off staff
Awards, Grants, and Competitions
UNICEF Pictures of the Year Award 2011 (link to PDF)
Five finalists for the inaugural Reminders Project Asian Photographers Grant
Tracy Baran Award : $5000 grant for an emerging US female photographer
Congrats to all this year's Foam Magazine Talents…
photo: Ivor Prickett
Royal Photographic Society : Annual Awards 2011
Guardian Student Media Awards shortlisted
Books
Kate Brooks: In The Light Of Darkness: A Photographer's Journey After 9/11
Conversations with Photographers (Conscientious)
Out November 1…
VII: Questions Without Answers 
Ken Jarecke: Husker Game Day – Farewell Big 12 
The Family by Jocelyn Bain Hogg
Crowd Funding
Laura El-Tantawy just launched an Emphas.is crowd funding campaign to help her continue her work in Egypt…go and have a look…
Laura El-Tantawy: In the Shadow of the Pyramids (Emphas.is)
Agencies
Events
British Journal of Photography : 'From stills to moving images' at The Social on Monday 26 September, at Barrio Central, Poland Street, London W1F 8PS
Exhibitions
"If I don't photograph it, it won't become known." Anja Niedringhaus
Anja Niedringhaus : At War : Berlin : 10 September – 4 December 2011
Chris Floyd: 140 Characters  : Host Gallery : 3 November – 17 November 2011 : press release
Photographers
Videos
Danfung Dennis' film Hell and Back Again opening in US theaters on Oct 5…
C.J Chivers, Andre Liohn: Lethal Lessons in Misurata (NYT: 2011)
Aperture education Youtube channel
Workshops
Magnum Photos workshop Munich, 10-14 Oct with Pellegrin, Dworzak & Anderson
Jobs
Open Society Institute : Exhibition Coordinator
Senior Lecturer, Nottingham Trent University
To finish off…
I was reading Finnish magazine Kuukausiliite this morning which had an article about Google Street View along with some photos by artist Jon Rafman… Noticed one of the images was similar to one by Mishka Henner…Looks like Henner and Rafman have used the same Google Street View frame for these two…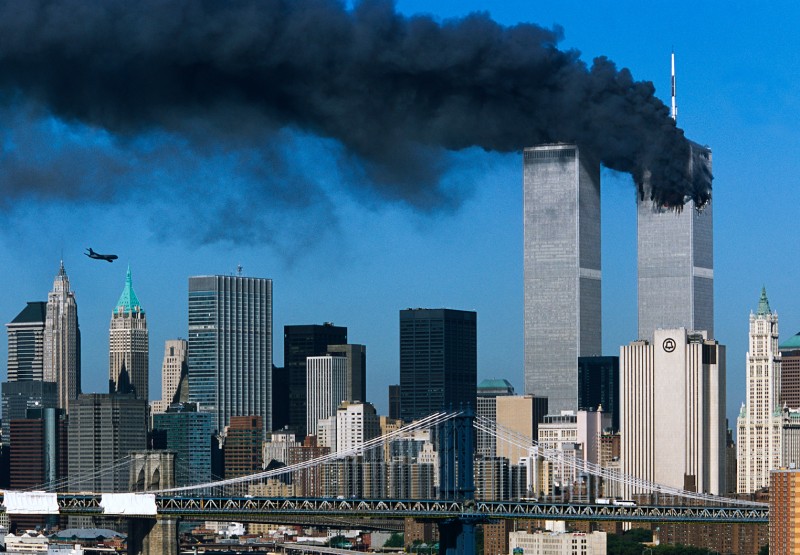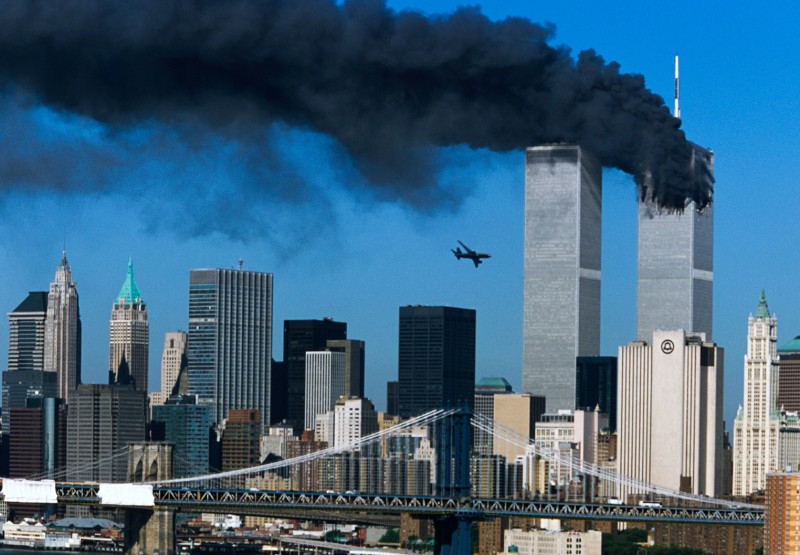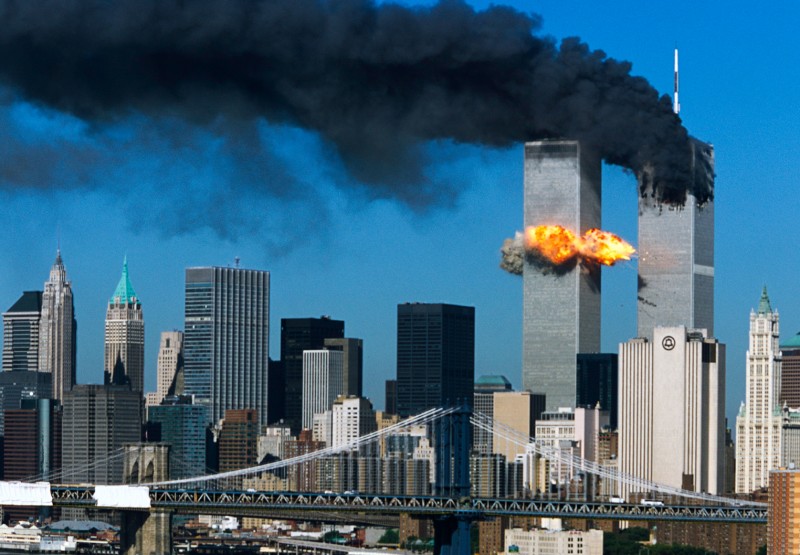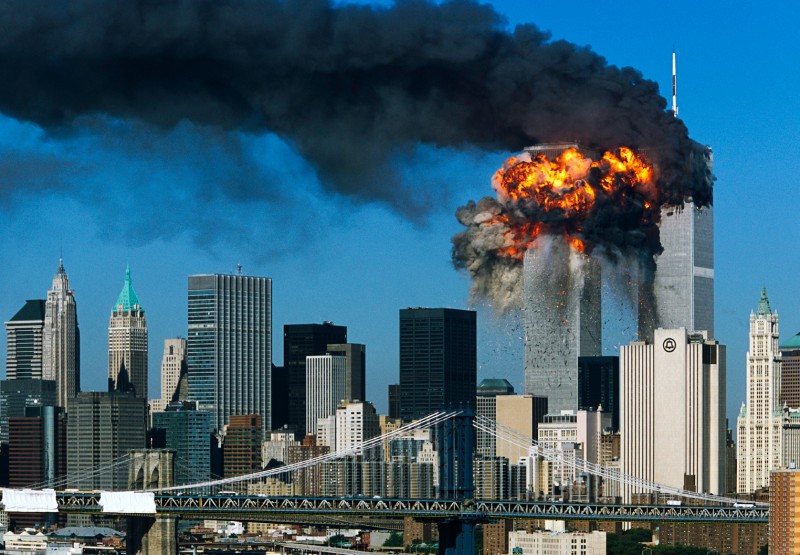 Interview with Robert Clark on this sequence he made on 9-11..Rob was my good neighbor for 4 years.
DAH…..
Rob tell me about the making of this picture..this sequence
ROB….
I had just come back from spending the night at the house of my girlfriend..Got to 475 Kent at 8:30am ..She called me after and told me a plane had hit the Twin towers…The view from my apartment was of the Twin Towers, but I was on the computer , my back was to this scene..
Luckily, I had my cameras ready to go and packed because I was set to go on a Natgeo story…So i grabbed the whole kit and headed for the roof
DAH  ..
How long were you on the roof before you saw this second plane coming?
ROB…
I got up to the roof at 8:54 a.m. and the second plane hit Tower #2 at 9:03 a.m., so I did not have much time to think. I had a 280mm (converted) lens and shooting film. I was composing and shooting Tower #1 burning, thinking that was THE shot. I had only 10 pictures left on the roll , when I saw the second plane coming…The first picture above was the second picture I took, frame #25…I shot the rest of the roll in the next 10 seconds….I knew i had it… Certain. Was also certain the world had just changed.
DAH..
I remember seeing you that day riding your bike up 6 th avenue, heading uptown..I was walking up too, and I remember you offered me your bike..This must have been just a few hours after you took this picture. I never forgot that offer. I think you have a real sense of community in you Rob. I mean you built population of the now famous Kibbutz where we all lived and from our roof this picture was made. Do you miss our kibbutz community since you have now moved away?
ROB..
Yes of course. It was a real photographic  inspiration just living in that building. After all we had Chris Anderson, Tim Hetherington, Alex Majoli, Stanley Greene, Paolo Pellegrin, Thomas Dvorzak, Lorena Ros, David Coventry and Alex Di Suvero and oh yea, you!! So many many good times and of course the list of visitors to that building is EVERYBODY in the biz.. I mean almost everybody in the photo world in New York came to our building. You played no small part in that yourself Harvey.
DAH
Well you made this historic picture before I moved into the building. But you were a great neighbor for 3 years . If I needed a cup of sugar , you had one. All good things do indeed come to an end. Damn. Those golden years at the Kibbutz went by too fast. Fortunately we all have so many other pictures from this rooftop , that we can try to forget yours. Great shot, but we do want to forget ..Right?
ROB..
Now on the 10th anniversary, we realize we really cannot forget. Because it is more than a memory. It is still happening. An ongoing attack. Or at least we think it is. Affects still today almost every aspect of our lives. Not just America. Worldwide.
Related links
Editor's note:
Rob will be jumping in on the comments today to answer your questions… – dah