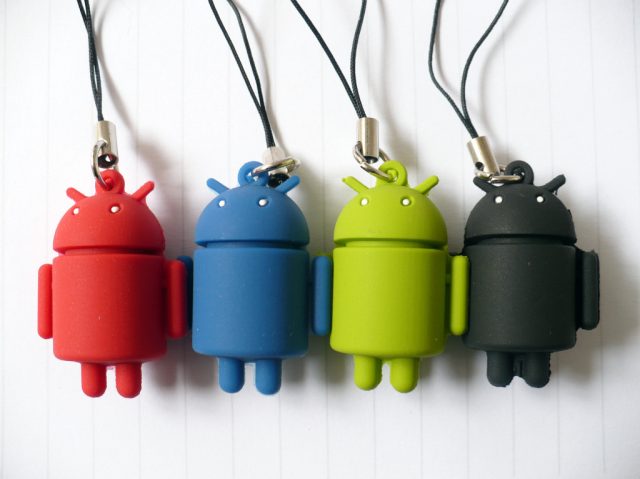 Pichai seems open to Android meaning lots of different things to lots of people and companies.
An interview with Sundar Pichai over at Wired has settled some questions about suspected Google plans, rivalries, and alliances. Pichai was recently announced as Andy Rubin's replacement as head of Android, and he expressed cool confidence ahead of Google I/O about the company's relationships with both Facebook and Samsung. He even felt good about the future of the spotty Android OS update situation.
Tensions between Google and Samsung, the overwhelmingly dominant Android handset manufacturer, are reportedly rising. But Pichai expressed nothing but goodwill toward the company. "We work with them on pretty much almost all our important products," Pichai said while brandishing his own Samsung Galaxy S 4. "Samsung plays a critical role in helping Android be successful."
Pichai noted in particular the need for companies that make "innovation in displays [and] in batteries" a priority. His attitude toward Motorola, which Google bought almost two years ago, was more nonchalant: "For the purposes of the Android ecosystem, Motorola is [just another] partner."
Read 5 remaining paragraphs | Comments
Sundar Pichai
In advance of the release of Google Drive, I sat down yesterday with Google SVP of Chrome and Apps Sundar Pichai and Google Drive product head Scott Johnston. I asked them to elaborate on how Google Drive emerged from within Google, how the product compares to the competition, and where they see it evolving.
What's ironic is that Pichai was the guy who helped kill a previous product called Google Drive, or GDrive, as detailed in Steven Levy's "In the Plex":
Google was about to launch a project it had been developing for more than a year, a free cloud-based storage service called GDrive. But Sundar had concluded that it was an artifact of the style of computing that Google was about to usher out the door. He went to Bradley Horowitz, the executive in charge of the project, and said, "I don't think we need GDrive anymore." Horowitz asked why not. "Files are so 1990," said Pichai. "I don't think we need files anymore."
Pichai is still not a fan of files — in fact, his criticism of Dropbox and others is that they're all about file management –  but he's come around on "having data available in context." Here's an edited transcript of our chat from yesterday:
Liz Gannes: With Google Drive, you're straddling distinctions between personal and organizational use, and personal storage versus sharing. As a user of Google Docs, Dropbox and others, I often get confused across that juncture about who can see things. How do you design for that?
Sundar Pichai: We strongly believe in the consumerization of the enterprise, and that's the pillar of all our Google Apps strategy. At work and at home, we try to bring the same set of products. There's some work in bridging the shift, but examples like the iPad bridge it pretty well. We have good controls in place — an admin can control when you're using Drive within a company — but it's an area we can do a lot more in.
Who can see what's in my Google Drive folder?
Scott Johnston: This is a big shift, in that, really, the Google Drive folder is yours. Only things go in there that you create or that you move there explicitly. There's a new "shared with me" view, and then you can move them into your Drive if you want. So it's really this space that you control.
Do you see people using their Google Drive as their backup for everything?
Pichai: It's a good question. I'm probably not the best representative use case, but the first time I got my access, I put my family pictures there, for safety and peace of mind. I don't think that problem is well-solved today, so having a very safe, secure place to store, which is cost-affordable, I think is a good opportunity. We also really want people to have data anytime, anywhere.
So — yes?
Pichai: Yes, it's a long way of saying yes.
What's the team that created this project? I know Google Drive had been "killed" internally before, but what about this group?
Scott Johnston
Johnston: I came onboard Google in 2006 when we were acquired at JotSpot, and joined the Docs team. On that team, as we got better and better at collaboration on different file types, we started seeing them more and more in our everyday life; for planning a birthday party or, internally, our designers were constantly sharing mocks. And it was this idea of getting out of the way of the user so they don't have to think about where their stuff is, and they can just do what they're trying to do. It was a natural evolution of Docs. This is just more touchpoints to access your data.
Is there continuity with previous Google Drive products?
Pichai: What Scott's talking about, Google Drive as an evolution of Docs, is one thing. Early on, we had a project called Google Drive that was completely different.
What was different?
Pichai: There was a very traditional file system approach, a long time ago, having nothing to do with Google Docs. It was pre-mobile, pre-tablet, with deep integration into My Documents and Windows, et cetera. So it was very different.
Why is this a good product now?
Pichai: Today, when I look at different solutions out there, those are still in the old metaphor of "here are files that you want, manage them." This is about you living your life online — planning a wedding, buying a house — and having your data available in that context. I think it's a big pivot, and that's what excites me and makes it a good product. It's in the natural flow.
I wouldn't underestimate the fact that you can use it not just with Google but with third-party applications over time will be a big differentiator. And third is, deep search is very powerful. There is a lot of deep computer science in there, the fact that you can comment on any file type, that there's full-text indexing with optical character recognition, all that happens magically with our infrastructure.
Johnston: There's also being able to offer up to 16 terabytes of storage per user.
It's kind of unusual for you to ask consumers to pay for Google products, right?
Pichai: Today, people are paying for Gmail and Picasa storage. For power users, it is popular. We've kind of made it very hard for you to do, but [Google Drive] is very easy. When you do upgrade here, your Gmail automatically goes up to 25 gigs. Over time, given how much Google Apps are the center of many users' life, and you want to store safely and securely, I think it's a good model and it's a pretty good deal.
I know you've been working on Google Drive, in various iterations, for a long time. Why are you releasing it now, especially if some key parts are not done?
Pichai: We wanted all of this to be done — iOS, Gmail, etc. We picked a schedule and, like, 18 things made the train, and two got left out, but they will get added in after. The fact that Gmail got delayed and G+ made it, I wouldn't have known a month ago.
Is this like the Chrome browser, where you guys promised a Mac version was coming soon, and then it took a couple years?
Pichai: Sorry about that. We dramatically underestimated what it would take to do Chrome on the Mac. IOS is a very different story. It works today. IOS is 98 percent done, and it will be here soon.
No matter what you say or launch, the takeaway is going to be, "Google launches Dropbox competitor." What do you make of the competitive landscape?
Pichai: I think if we wanted to do it, we would have approached it very differently. We've gone to great lengths to built it around an online application experience. We want this to be about creating and collaborating — and your data is there for you. I think others have taken a file/data approach, and saying you have [access to] that everywhere. It's nuanced, but I think it's very different.
And for an active Google user, the integration we provide is very valuable. [As for Dropbox,]  I think the work they've done is great. This is a secular shift in terms of how people are living in the cloud, and I think it's good to have innovation in the space.
Are we going to see TV ads for this?
Pichai: Not that I know of.
Johnston: The Super Bowl's a long time from now.
Pichai: If the Niners make it.
Signs are emerging that Google is de-emphasizing its efforts in online productivity tools that compete with Microsoft, which was never the core of its business to being with, to focus even more on search and social networking, and its increasing competition with Facebook.
This shift in emphasis is reflected in some notable departures, as well as in a reorganization of the division that oversees the development of Google Apps, which include online office productivity tools that compete with Microsoft Office. Google continues to add functionality to Google Apps, but most of the functionality has either been in the works for years, or borrows from other existing products such as Google+.
Google Apps for businesses includes Web-based word processing, spreadsheet and presentation applications that the company hosts on its own computers and offers to companies for $50 a user, per year. The suite became popular among smaller businesses looking to transition from Microsoft Office software, which is hosted on company computers and requires maintenance from an IT staff.
Google Apps has had some churn to its core leadership as the company evolves under CEO Larry Page, including the loss of Dave Girouard as vice president of Apps and president of Google's Enterprise business. Girouard, who joined Google in 2004, oversaw the development and launch of Apps for businesses. He left April 6 and no successor has been named.
Google
Amit Singh
A source familiar with Google Apps told CIO Journal: "I was personally shocked to see Dave G leave. That was his baby, and he was so invested in it."
Girouard himself downplayed his exit in an e-mail to CIO Journal: "Google has an amazingly deep bench and the Enterprise biz has never been doing better." Girouard left to launch a startup.
Other key Google Apps employees have also left the company or been reassigned to other projects. Matt Glotzbach, a product management director at Google Apps who was often the public face of the suite when Girouard wasn't available, became managing director of Google's YouTube unit in Europe last June. Apps also lost its top two Google public relations managers. Mike Nelson moved to Japan to lead Google's public relations team there last year. Andrew Kovacs left earlier this year to run public relations for Sequoia Capital.
Tom Sarris, who replaced Kovacs three months ago as the public relations manager for Google Apps, told CIO Journal in early April he has not yet met with Sundar Pichai, who oversees the Google Apps business, among other responsibilities.
The executive exodus at Apps follows a restructuring of the Google Enterprise business under Page. Last summer, Page split the Google Enterprise business into two units — an Apps unit uniting Google's consumer and business product teams, and another unit that focuses exclusively on selling Apps to businesses. Under this change, Girouard reported to Pichai, who manages the Google Chrome and Apps businesses. Amit Singh, responsible for sales of Apps to businesses, reports to Nikesh Arora, senior vice president and chief business officer at the company.
The split may seem confusing, but Singh told CIO Journal Page restructured the enterprise business to help the Apps product teams focus on development, leaving Singh and his team to sell the software to businesses.
To be sure, Apps appears to be in solid shape today. More than 4 million businesses rely on Google software to support their collaboration efforts, though Google said only hundreds of thousands of those companies are paying customers. The company in the last few months secured two large, paid contracts, including BBVA bank, which will put its 110,000 employees on Apps this year, and healthcare provider Roche Group, which agreed to put its 90,000 workers on the software.
And customers appear to be pleased with the software, which gained over 200 features in 2011 alone. Ahold, a large retailer based in Amsterdam, has been using Google Apps for its 55,000 employees in Europe and the U.S. since 2010, according to a company spokesman. Joe Fuller, CIO for Dominion Enterprises, said he has been pleased with his Apps implementation since he moved his 4,000 employees from Microsoft Office to Apps this year.
Google's Singh said Girouard essentially incubated Apps as an enterprise business within Google. But now  the company is focusing on scaling the business. "Instead of seeing one large [customer] name a quarter, you'll start to see several a quarter." Singh also told CIO Journal Google would consider sensible acquisitions to prop up the Apps business.
Even so, the recent Apps management and stewardship changes are accompanied by a subtle shift in Google's focus. Google's application portfolio has broadened since Apps were introduced to include products such as Chrome and Android, which are key to the company's mobile ambitions. When Google published Page's update on its business for investors last week, Page touted products primed to fuel Google's advertising revenues, including search, Android mobile software, Chrome, and Google+, the company's new social network.
Page didn't address the momentum of the Google Apps suite, and only referenced Gmail, the Web-based e-mail application that forms the core of Apps' communications for businesses, as an afterthought: "And our enterprise customers love it too. Over 5,000 new businesses and educational establishments now sign up every day."
For now, Google is still adding functionality to Google Apps. The company recently launched an archiving application that had been in development for years. A source familiar with Google Apps' product road map said Apps users can expect the company to integrate Google+ social functionality with Google Apps over the course of 2012. Google could also more tightly integrate Apps with notebook computers based on its Chrome Operating System, the source said.
Google's Enterprise business has historically only accounted for roughly 3% of the company's annual revenues, with the lion's share provided by advertising.
Microsoft has also developed a Web-based version of its Office suite, called Office 365. The suite has drawn favorable reviews from users and analysts, and is beginning to win some customers from Google. Chandris Hotels and Resorts and beauty care company Naturally Me recently said they chose Microsoft over Google Apps.
IDC analyst Melissa Webster, who talks to customers of both Apps and Office software, says more customers could join that exodus, especially if Google finds itself challenged in areas it considers more strategic, such as social, search and advertising.
"I could see Google Apps de-emphasized, or just not funded that aggressively," Webster told CIO Journal. On the other hand, "Microsoft is and has always been an enterprise software vendor — they're in it and committed for the long haul, that's their DNA and Office is a strategic product line," Webster noted.
Correction: CIO Journal incorrectly listed Contoso as a company that picked Microsoft over Google Apps. We regret the error.