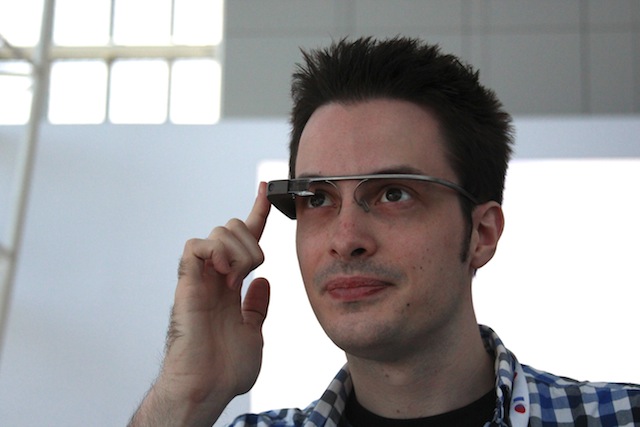 I log some face-on time with Glass at Google I/O.
Florence Ion
"When you're at a concert and the band takes the stage, nowadays 50,000 phones and tablets go into the air," said Google Senior Development Advocate Timothy Jordan in the first Google Glass session of this year's Google I/O. "Which isn't all that weird, except that people seem to be looking at the tablets more than they are the folks onstage or the experience that they're having. It's crazy because we love what technology gives us, but it's a bummer when it gets in the way, when it gets between us and our lives, and that's what Glass is addressing."
The upshot of this perspective is that Glass and its software is designed for quick use. You fire it up, do what you want to do, and get back to your business without the time spent diving into your pocket for your phone, unlocking it, and so on. Whether this process is more distracting than talking to someone with Glass strapped to his or her face is another conversation, but this is the problem that Google is attempting to solve.
Since Google I/O is a developer's conference, the Glass sessions didn't focus on the social implications of using Glass or the privacy questions that some have raised. Rather, the focus was on how to make applications for this new type of device, something that is designed to give you what you want at a moment's notice and then get out of the way. Here's a quick look at what that ethos does to the platform's applications.
Read 22 remaining paragraphs | Comments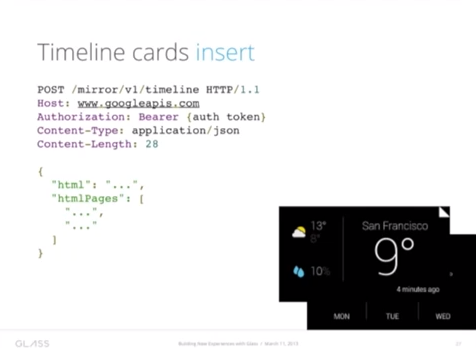 A demo of how to use the mirror API and its output during Timothy Jordan's talk.
If you're looking for a taste of what it will be like to develop for Google Glass, the company posted a video demonstrating the hardware and a little bit of the API on Thursday. Timothy Jordan, a senior developer advocate at Google, gave a talk at SXSW in early March that lasted just shy of an hour and gave a look into the platform.
Google Glass bears more similarity to the Web than the Android mobile operating system, so developing for it is simpler than creating an Android application. During the talk, Jordan goes over some the functionality developers can get out of the Mirror API, which allows apps to pop Timeline Cards into a user's view, as well as show new items from services the user might be subscribed to (weather, wire services, and so forth).
Jordan also shows how users can interact with items that crop up using the API. When the user sees something they like, for instance, they can re-share it with a button or "love" it.
Read 1 remaining paragraphs | Comments