The AR-15 has become the most infamous gun in America in the last few month. The rifle, originally designed for United States troops in Vietnam, has been flying off the shelves since the Newtown and Aurora shootings. In fact, the AR-15, which fans also refer to as the Black Rifle, has been flying off the shelves for years. There are now around five million AR-15s in the hands of everyday Americans.
Exactly why the Black Rifle has become so insanely popular is up for debate, but Wired's Jon Stokes makes a strong case in an article that declares "The AR-15 Is More Than a Gun. It's a Gadget." Among other revelations, Stokes attributes the AR-15's popularity in part to the gun's hackability. Like the hot rod craze, high definition stereo trend, and the fixed gear bike phenomenon before it, the AR-15 appeals to the American desire for individuality and customizability.
- by Adam Clark Estes
The stereotype is as old as the Spartans. Those ancient, dichotomy loving Greeks had gender-specific definitions for heroism: men who fell in battle and women who died in childbirth. Epics sang of arms and the man—not arms and the woman. The roles have been so ingrained century after century that, despite the inclusiveness of the Second Amendment of the U.S. Constitution ("…the right of the people to keep and bear arms"), guns are still primarily perceived as a male purview. The photographer Lindsay McCrum plays on this preconception in her recently published collection Chicks with Guns, a playful yet perturbing visual essay on the statistic that some 20 million women in America own guns. The subjects of the book, published by The Vendome Press, range from girls to women of a certain age, from hunters to police officers to biathletes to the wheelchair-bound; they are dressed in fatigues, ballgowns, fur, frills, jeans and t-shirts, wielding everything from an antique dueling pistol to Beretta hunting rifles to Glocks to an AR-15 semi-automatic. McCrum has played with the dynamics of similar disjunctions in the past, for example, photographing young girls wearing their favorite dresses chosen from their mother's wardrobes; but that involved the imagination and fantasy. With Chicks with Guns she deals in realities as tangible as gun barrels, in a tableau that stretches across America—one where the gender-divide itself proves to be imaginary.
Chicks with Guns was recently published by the The Vendome Press.
Howard Chua-Eoan is the News Director of TIME and TIME.com. Find him on Twitter at @hchuaeoan.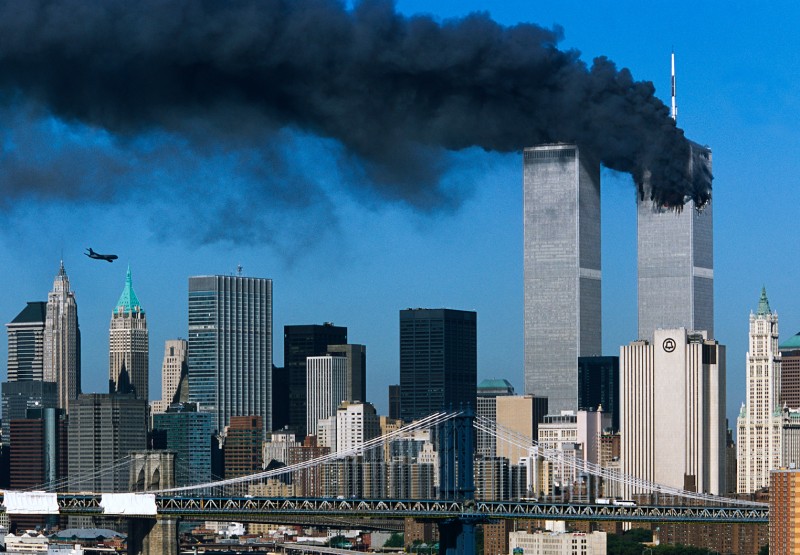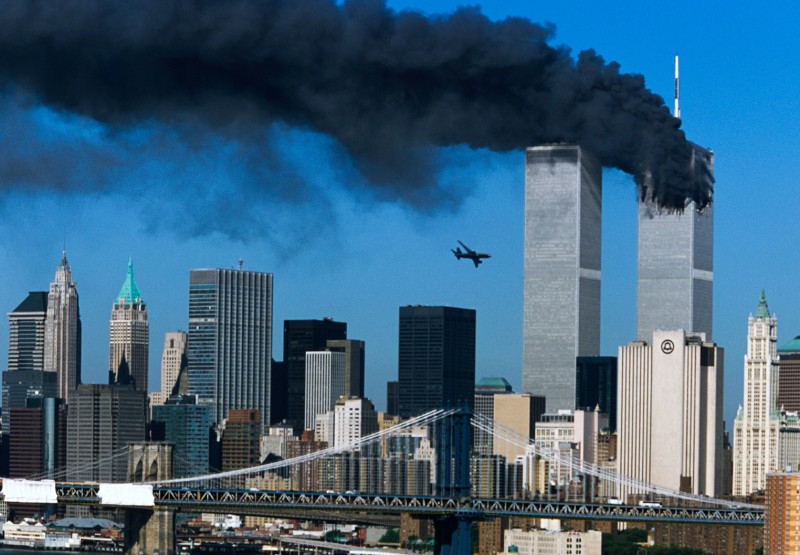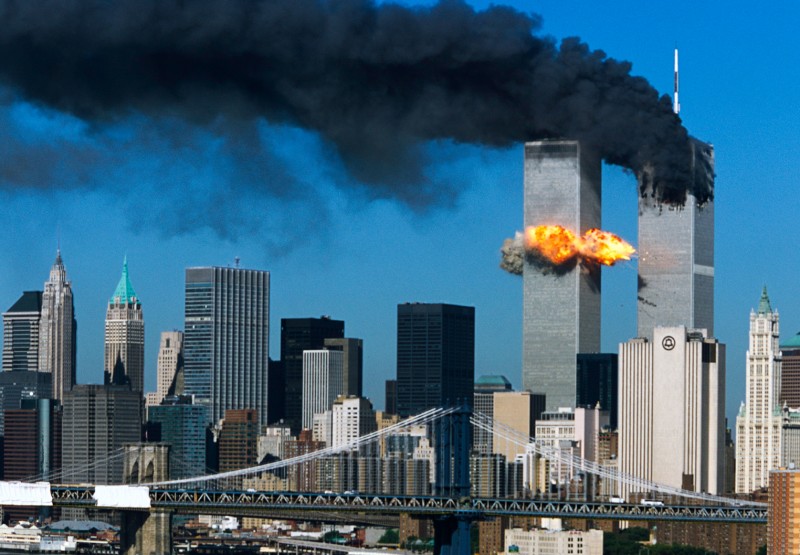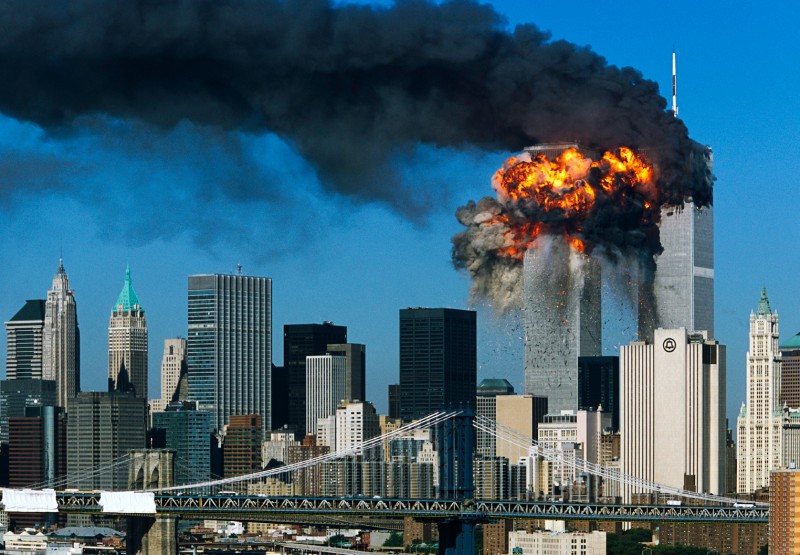 Interview with Robert Clark on this sequence he made on 9-11..Rob was my good neighbor for 4 years.
DAH…..
Rob tell me about the making of this picture..this sequence
ROB….
I had just come back from spending the night at the house of my girlfriend..Got to 475 Kent at 8:30am ..She called me after and told me a plane had hit the Twin towers…The view from my apartment was of the Twin Towers, but I was on the computer , my back was to this scene..
Luckily, I had my cameras ready to go and packed because I was set to go on a Natgeo story…So i grabbed the whole kit and headed for the roof
DAH  ..
How long were you on the roof before you saw this second plane coming?
ROB…
I got up to the roof at 8:54 a.m. and the second plane hit Tower #2 at 9:03 a.m., so I did not have much time to think. I had a 280mm (converted) lens and shooting film. I was composing and shooting Tower #1 burning, thinking that was THE shot. I had only 10 pictures left on the roll , when I saw the second plane coming…The first picture above was the second picture I took, frame #25…I shot the rest of the roll in the next 10 seconds….I knew i had it… Certain. Was also certain the world had just changed.
DAH..
I remember seeing you that day riding your bike up 6 th avenue, heading uptown..I was walking up too, and I remember you offered me your bike..This must have been just a few hours after you took this picture. I never forgot that offer. I think you have a real sense of community in you Rob. I mean you built population of the now famous Kibbutz where we all lived and from our roof this picture was made. Do you miss our kibbutz community since you have now moved away?
ROB..
Yes of course. It was a real photographic  inspiration just living in that building. After all we had Chris Anderson, Tim Hetherington, Alex Majoli, Stanley Greene, Paolo Pellegrin, Thomas Dvorzak, Lorena Ros, David Coventry and Alex Di Suvero and oh yea, you!! So many many good times and of course the list of visitors to that building is EVERYBODY in the biz.. I mean almost everybody in the photo world in New York came to our building. You played no small part in that yourself Harvey.
DAH
Well you made this historic picture before I moved into the building. But you were a great neighbor for 3 years . If I needed a cup of sugar , you had one. All good things do indeed come to an end. Damn. Those golden years at the Kibbutz went by too fast. Fortunately we all have so many other pictures from this rooftop , that we can try to forget yours. Great shot, but we do want to forget ..Right?
ROB..
Now on the 10th anniversary, we realize we really cannot forget. Because it is more than a memory. It is still happening. An ongoing attack. Or at least we think it is. Affects still today almost every aspect of our lives. Not just America. Worldwide.
Related links
Editor's note:
Rob will be jumping in on the comments today to answer your questions… – dah