Today, a large collection of Web hosting and service companies announced that they will support Railgun, a compression protocol for dynamic Web content. The list includes the content delivery network and Web security provider CloudFlare, cloud providers Amazon Web Services and Rackspace, and thirty of the world's biggest Web hosting companies.
Railgun is said to make it possible to double the performance of websites served up through Cloudflare's global network of data centers. The technology was largely developed in the open-source Go programming language launched by Google; it could significantly change the economics of hosting high-volume websites on Amazon Web Services and other cloud platforms because of the bandwidth savings it provides. It has already cut the bandwidth used by 4Chan and Imgur by half. "We've seen a ~50% reduction in backend transfer for our HTML pages (transfer between our servers and CloudFlare's)," said 4Chan's Chris Poole in an e-mail exchange with Ars. "And pages definitely load a fair bit snappier when Railgun is enabled, since the roundtrip time for CloudFlare to fetch the page is dramatically reduced. We serve over half a billion pages per month (and billions of API hits), so that all adds up fairly quickly."
Rapid cache updates
Like most CDNs, CloudFlare uses caching of static content at its data centers to help overcome the speed of light. But prepositioning content on a forward server typically hasn't helped performance much for dynamic webpages and Web traffic such as AJAX requests and mobile app API calls, which have relatively little in the way of what's considered static content. That has created a problem for Internet services because of the rise in traffic for mobile devices and dynamic websites.
Read 13 remaining paragraphs | Comments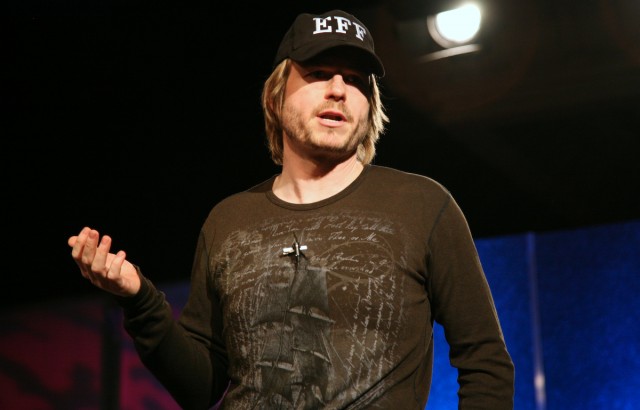 Peter Biddle speaks at the ETech conference in 2007.
Can digital rights management technology stop the unauthorized spread of copyrighted content? Ten years ago this month, four engineers argued that it can't, forever changing how the world thinks about piracy. Their paper, "The Darknet and the Future of Content Distribution" (available as a .doc here) was presented at a security conference in Washington, DC, on November 18, 2002.
By itself, the paper's clever and provocative argument likely would have earned it a broad readership. But the really remarkable thing about the paper is who wrote it: four engineers at Microsoft whose work many expected to be at the foundation of Microsoft's future DRM schemes. The paper's lead author told Ars that the paper's pessimistic view of Hollywood's beloved copy protection schemes almost got him fired. But ten years later, its predictions have proved impressively accurate.
The paper predicted that as information technology gets more powerful, it will grow easier and easier for people to share information with each other. Over time, people will assemble themselves into what the authors called the "darknet." The term encompasses formal peer-to-peer networks such as Napster and BitTorrent, but it also includes other modes of sharing, such as swapping files over a local area network or exchanging USB thumb drives loaded with files.
Read 18 remaining paragraphs | Comments