They say the eyes tell all.
Now thanks to eye-tracking technology we can tell they're saying, and the results point to fascinating differences between men and women and useful insights into advertising and design.
We've picked out some of our favorite.
Men spend more time looking at the woman, while women read the rest of the ad.
Notice how the men are not looking at the shoes at all.
These Sunsilk ads show that just putting a pretty face on a copy isn't enough. It matters where she's looking.
See the rest of the story at Business Insider
Please follow Business Insider on Twitter and Facebook.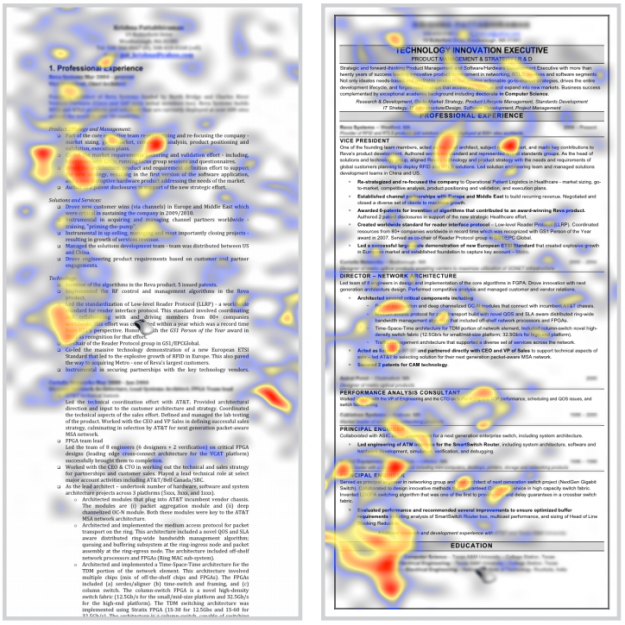 In a study by TheLadders (of n equals 30), recruiters looked at resumes and make some judgments. During evaluations, eye tracking software was employed, and they found that the recruiters spent about six seconds on a resume looking for six main things: name, current company and title, previous company and title, previous position start and end dates, current position start and end dates, and education. After that, it was a crapshoot.
Beyond these six data points, recruiters did little more than scan for keywords to match the open position, which amounted to a very cursory "pattern matching" activity. Because decisions were based mostly on the six pieces of data listed above, an individual resume's detail and explanatory copy became filler and had little to no impact on the initial decision making. In fact, the study's eye tracking technology shows that recruiters spent about 6 seconds on their initial "fit/no fit" decision.
If I ever have to submit a resume, I'm just going to put those six things as bullets and then the rest will all be keywords in small, light print. It'll be like job search SEO.
Update: I've been told that TheLadder's reputation might be less than savory, and a quick search shows some in agreement, so it might be wise to sidestep the service. Instead, go with my awesome six-bullet advice and you're gold.
[via @alexlundry]