William Volk may not be the world's oldest game designer, but he's up there. He started out as a play tester for Avalon Hill in 1979, and since then has worked for Activision and other major players in the game space. His current job is with PlayScreen, where he's working on their Word Carnivale iOS game, which is not violent at all. But over the years Volk has worked on slightly violent video games and has watched public outcries over video game violence since 1976. He's also tracked how much less violence we've seen since lead was removed from gasoline. (Editorial interjection: Aren't most remaining pockets of massive gun violence in cities where many poor kids grow up in apartments that have lead paint?) Due to technical problems during the interview, some of the conversation is missing, primarily about the recent spate of multiple murders. It seems, for instance, that Newtown shooter Adam Lanza was heavily into violent video games, which is sure to spark plenty of new discussion about how they affect players. But then again, as Volk reminded me in an email, "If people were influenced by video games, a majority of Facebook users would be farmers by now," a meme that has been floating around Facebook since last year, if not earlier.
Read more of this story at Slashdot.
Because the President's limousine passed almost exactly in front of Dallas clothing manufacturer Abraham Zapruder on Nov. 22, 1963, just as he was playing with his new film camera, and precisely at the moment that Lee Harvey Oswald fired his rifle from a nearby books depository, his silent, 26.6-second home movie has become the focal point of America's collective memory on that weird day. For many of us, especially those who weren't alive when it happened, we're all watching that event through Zapruder's lens.
Other footage from the scene turns up here and there, becomes fodder for documentaries (like this new one disproving the "second shooter" theory). But Zapruder's film is still the canonical ur text of John F. Kennedy's assassination, the most complete and most chilling visual record. In many ways, it prefigured all sorts of American pastimes, from widespread paranoia about government to a loss of faith in photographic truth and the news media, from the acceptance of graphic violence to newer concerns about copyright. Don DeLillo once said that the little film "could probably fuel college courses in a dozen subjects from history to physics." Without the 486 frames of Kodachrome II 8mm safety film, our understanding of JFK's assassination would likely be an even greater carnival of conspiracy theories than it already is. Well, maybe.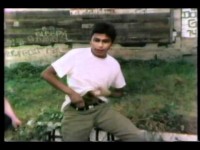 A two part recording of a "60 Minutes" segment aired in 1978 with Dan Rather on the scene with some of the gangs of East Los Angeles. This is probably the first time that the West Coast gang culture recieved in depth exposure on national TV.