Now in its 25th season — with a 26th on the way — The Simpsons has taken to producing elaborate homages to other works of entertainment. In October, the show's creators recruited Guillermo del Toro to put together a lengthy Halloween-themed intro sequence that toasted classic horror films and referenced the director's own work. Now The Simpsons has created a similar tribute to the films of Studio Ghibli's Hayao Miyazaki.
Miyazaki bid farewell to film-making last September after the Japanese release of Studio Ghibli's The Wind Rises. The director and animator is best known for his work creating anime as iconic and well-loved as My Neighbor Totoro and Spirited Away, and the short Simpsons segment above — part of forthcoming episode "Married to the Blob" — is packed with references to his 11 movies. Highlights include Otto's stint as a Simpsons-ized Catbus, and Patti and Selma riding broomsticks borrowed from Kiki's Delivery Service. You'll be able to see the whole episode and pick out additional nods to the esteemed director and his influential animation studio this coming Sunday on FOX.
[Video Link] If you've been reading Boing Boing for any length of time, you probably know by now Daniel Clowes is at the top of my list of greatest living cartoonists. (See our many posts about Dan's work, interviews, profiles, etc.).
So you will understand why I'm so excited about the forthcoming monograph, The Art of Daniel Clowes: Modern Cartoonist, edited by Alvin Buenaventura (the great comic book publisher and historian), and published by Abrams ComicArts. On April 5, Meltdown Comics in Los Angeles is holding an event to celebrate the release of the book. Part of the festivities will include a live interview with Dan, conducted by yours truly. If you buy a copy of The Art of Daniel Clowes through Meltdown, you'll get 2 tickets to the event (and Dan will sign it for you that evening). Additional tickets can be purchased for $10.
Also, enter our contest for a chance to win a copy of the book autographed by Daniel Clowes. Throughout our countdown, one winner will be picked at random every day, so check Boing Boing for the daily code. To enter, send an email to artofdanielclowescontest@gmail.com with your mailing address (no PO boxes please) and put today's contest code: [enidcoleslaw] in the subject line.
For the next two weeks, I'll post a daily countdown entry about Clowes and his book, written by Dan or Alvin. The official release date is April, 1, but you can get it today on Amazon.
Here's today's countdown post: ¡Ay Dan Clowes! (Los Simpson en Español) y Correa de la Utilidad del Batman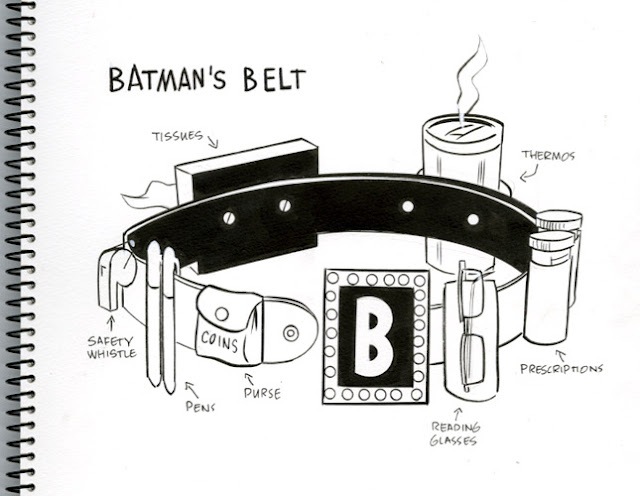 Daniel Clowes, along with Art Spiegelman and Alan Moore, appeared on The Simpsons episode titled "Husbands and Knives," first broadcast on November 18, 2007. Clowes was asked to draw a version of Batman's utility belt, but it was too detailed for the show's minimal style.
Two-Week Countdown to the Release of "The Art of Daniel Clowes: Modern Cartoonist"!
About
You, sir, are and idiot is a catchphrase and a corrupted variant of the phrase "You, sir, are an idiot," originally uttered by Krusty the Klown in an episode of The Simpsons. The quote was subsequently popularized on 4chan, with the conjunction "and" replacing the indefinite article "an" for an additional layer of irony. The phrase now implies "I believe that I know more than you, despite my own ineptitude."
Origin
"You, sir, are an idiot" was first said by Krusty the Klown in episode 9 of Season 15 of The Simpsons, entitled "The Last Temptation of the Krust." It originally aired February 22nd, 1998.
'You sir' is a common prefix that can be added to the beginning of a declarative statement. It is often used to add emphasis to an opinion or to imply a tone of respect. By all implications of the phrase, one is ironically saying "I respectfully disrespect you."
Use
The phrase appeared on Urban Dictionary in September 2008. Its usage can be seen in the following samples from 4chanarchive (WARNING: 18+, NSFW):
Derivatives
Googling the phrase yields approximately 25,000+ results. Many of those hits are people using the phrase on message boards to call other posters out (like on this GameSpot thread in 2008) or to troll (as seen in this Adult Swim thread in 2010. It has also been used in comments, as seen on Failblog in 2008, to criticize other users.
However, since the derivatives lack much in terms of original content or recontextualization, it is more of a forced catchphrase meme.
Google Insights
Significant search trends for both variations of the phrase began showing up in August and September of 2008. It is not entirely clear what would cause the phrase to regain popularity 10 years after debuting in popular culture.
The phrase peaked again in September and December of 2009, although there is no clear explanation as to why.