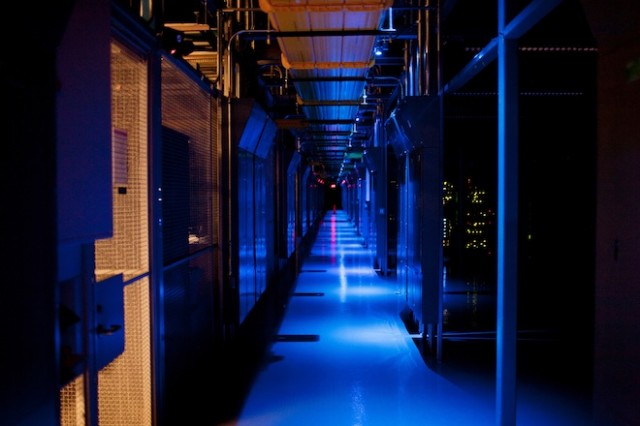 The inside of Equinix's co-location facility in San Jose—the home of CloudFlare's primary data center.
Photo: Peter McCollough/Wired.com
On August 22, CloudFlare, a content delivery network, turned on a brand new data center in Seoul, Korea—the last of ten new facilities started across four continents in a span of thirty days. The Seoul data center brought CloudFlare's number of data centers up to 23, nearly doubling the company's global reach—a significant feat in itself for a company of just 32 employees.
But there was something else relatively significant about the Seoul data center and the other 9 facilities set up this summer: despite the fact that the company owned every router and every server in their racks, and each had been configured with great care to handle the demands of CloudFlare's CDN and security services, no one from CloudFlare had ever set foot in them. All that came from CloudFlare directly was a six-page manual instructing facility managers and local suppliers on how to rack and plug in the boxes shipped to them.
"We have nobody stationed in Stockholm or Seoul or Sydney, or a lot of the places that we put these new data centers," CloudFlare CEO Matthew Prince told Ars. "In fact, no CloudFlare employees have stepped foot in half of the facilities where we've launched." The totally remote-controlled data center approach used by the company is one of the reasons that CloudFlare can afford to provide its services for free to most of its customers—and still make a 75 percent profit margin.
Read 24 remaining paragraphs | Comments